FRANKLIN SCHOOL APARTMENTS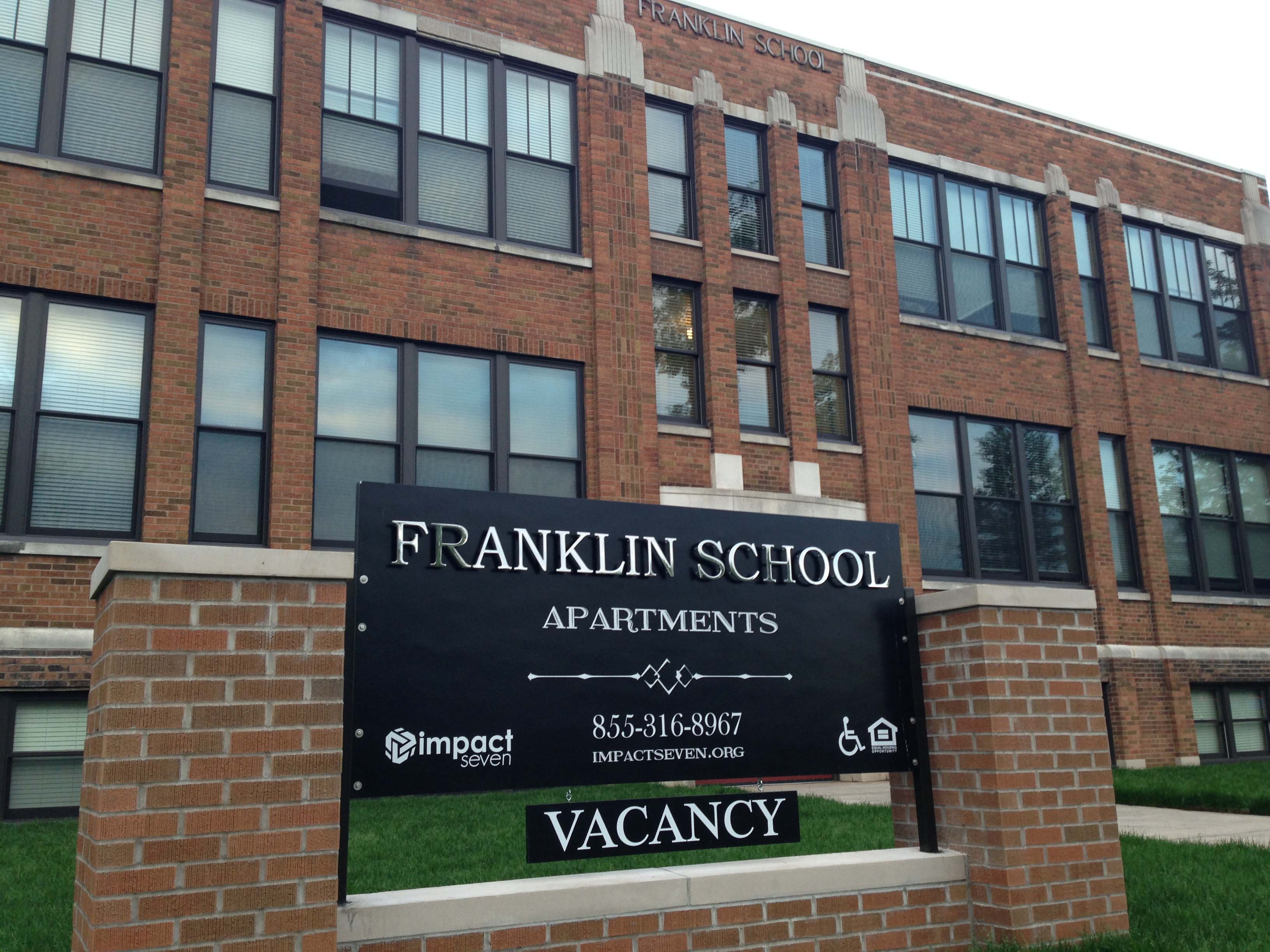 Once a vacant school campus, Franklin School Apartments is a new rental community providing 20 affordable apartments and townhomes for families on Rice Lake's main commercial corridor. With Impact Seven at the helm of development, construction was complete in April 2016 and is now 100% occupied.  Sikes-Abernathie Architects and general contractor, Dave Cecil Builders, Inc. lead the design and construction teams.
"Developments this complex are sometimes difficult to keep on schedule, and we are very pleased the team delivered the project on time and budget," says Kristine Giornalista, Impact Seven's Vice President of Real Estate Development. "More importantly, we are excited that 20 more units of quality, affordable rental homes are available in the Rice Lake community."
The Rice Lake School Board originally constructed the building in 1936 as a six-room primary school. After more than eight decades of service, the Rice Lake School Board determined the building could no longer support modern educational needs and vacated the building. In 2013, Impact Seven proposed an adaptive reuse to safeguard the landmark and respond to the area's housing demand. Construction began in summer 2015 to convert the school building into 12 loft-style apartments and add 8 new townhomes.
Both renovated and newly constructed buildings follow Wisconsin Green-Built Homes criteria for sustainable construction. Sustainable practices and features include enhanced air sealing, low VOC products and Energy-Star rated windows. All units feature Energy-Star rated products including appliances, light fixtures and bath fans with timers, 95% efficient furnaces and high efficiency central air conditioners (SEER 14). The historic apartments provide either one or two bedrooms with an open design with high, exposed ceilings and design elements such as art niches and built-in shelving. The townhomes are designed to accommodate larger families with three bedrooms, two bathrooms, ground level exterior entrances and a private garage. The development provides numerous common amenities such a multi-purpose community room in the former gymnasium, on-site laundry, school-grade playground equipment and covered parking. All units are set aside for a mix of households, including those earning at or below 30%, 50% or 60% of the County Median Income (CMI). Rents are structured to be affordable to families at those incomes levels.
The project was made possible by significant public investment, including Low Income Housing Tax Credits (LIHTC) from the Wisconsin Housing and Economic Development Authority, federal historic tax credits, state historic tax credits jointly administered by the Wisconsin Historical Society and Wisconsin Economic Development Corporation, HOME funds administered by the Wisconsin Department of Administration, Affordable Housing Program (AHP) funds from the Federal Home Loan Bank of Chicago, and a NeighborWorks America capital grant. Bremer Bank provided both construction and permanent financing.
The grand opening took place on June 27th and included formal remarks from representatives from Impact Seven, the City of Rice Lake, Wisconsin Housing and Economic Development Authority (WHEDA), Wisconsin Economic Development Corporation (WEDC), National Equity Fund and the Wisconsin Historical Society. With Impact Seven at the helm of development, construction was complete in April 2016 and is now 100% occupied.
← Go Back To Highlights