Dedication Scheduled for Bronzeville's Iconic Mural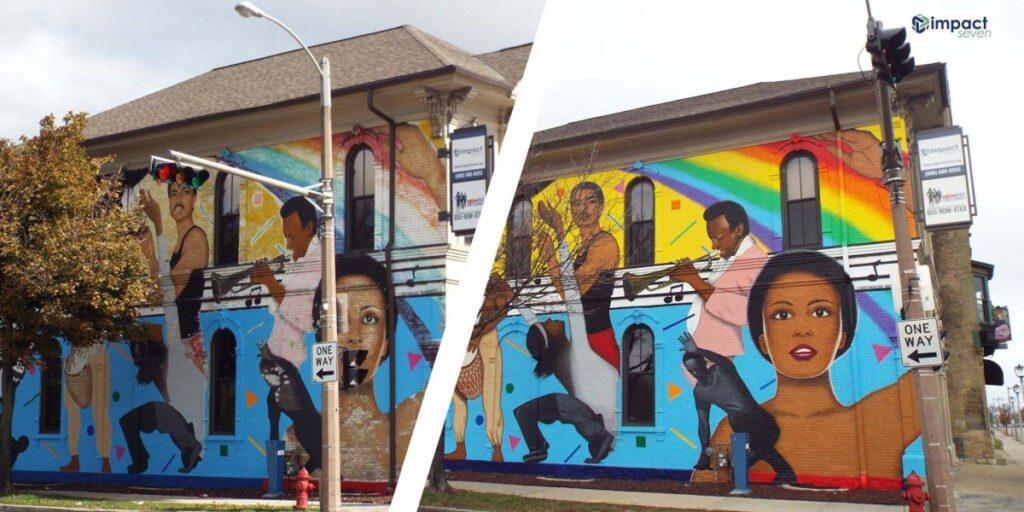 Celebratory Unveiling of the Restored Inner City Arts Mural Scheduled
Open house set for Bronzeville Cultural and Entertainment District iconic mural restoration
FEB 18, 2016 – Milwaukee, WI – Impact Seven, Inc. invites the Bronzeville area to celebrate the completed rehabilitation of the well-known "Celebrate the Arts" mural. The event will be held on March 3 from 3:00 P.M. to 5:30 P.M., with formal remarks and a dedication ceremony at 3:30 P.M.
The iconic mural, located on the west side of the Inner City Arts building, was first commissioned in 1984. Muralist Reynaldo Hernandez worked alongside the youth of the Milwaukee Commando Project to paint what became one of the most recognizable murals in Milwaukee. Visible from the I-43 freeway, the mural is a depiction of various art forms, including a jazz musician, a drummer, dancers and more. After years of wear, Impact Seven, one of three owners of the Inner City Arts building, contacted the original artist in hopes of rehabilitating the once vibrant mural. Using funds acquired from National Equity Fund, Mr. Hernandez began work in the summer of 2015 and completed the restoration in the fall – bringing new life to a historic landmark.
The unveiling celebration is open to the public and will take place at the Inner City Arts building, at 642 W. North Avenue in Milwaukee, in the Bronzeville Cultural and Entertainment District. Attendees will enjoy art exhibitions by Reynaldo Hernandez, Rozalia Singh, Jason Sterling, Booker Lambouths, Liana Flores, Marisa De Windt and more. Those interested are encouraged take part in an oral history project as well.
This event is made possible with the support of muralist Reynaldo Hernandez, the City of Milwaukee and the Friends of Bronzeville.
Impact Seven is a nonprofit Community Development Financial Institution (CDFI) that was established in 1970 in rural northwestern Wisconsin. It builds capacity in underserved communities throughout the state and beyond, and provides innovative, socially-motivated investments and services. Impact Seven's commercial and residential real estate projects revitalize distressed communities through cross-sector partnerships and local involvement.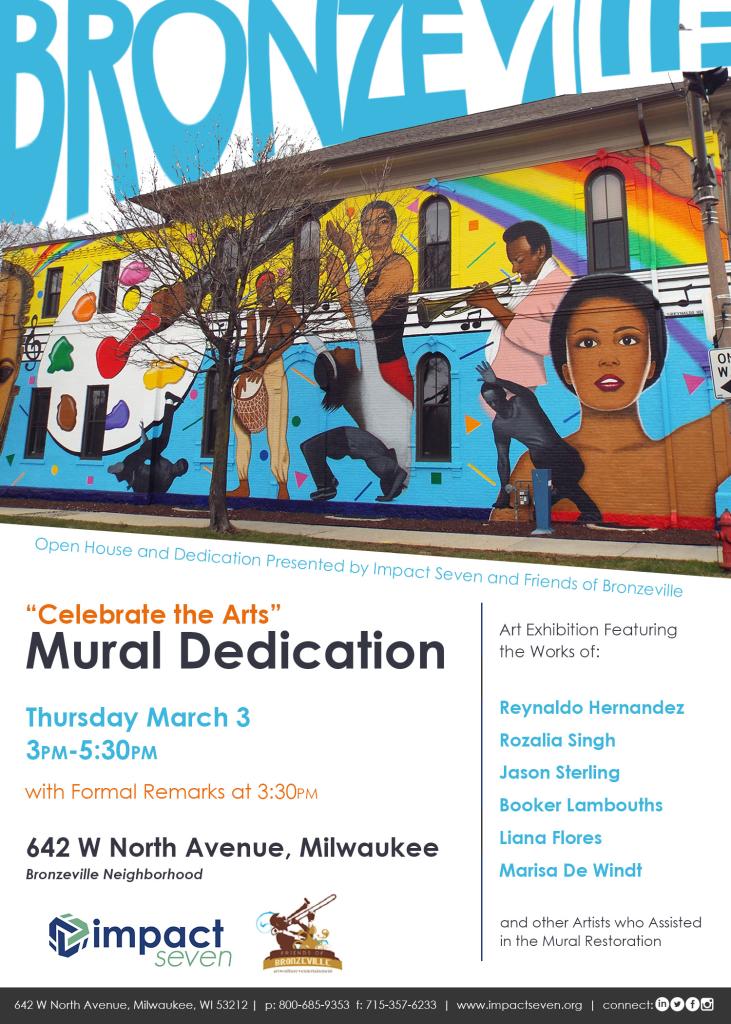 ← Go Back To The Blog Roll