Franklin School Apartments Nearing Completion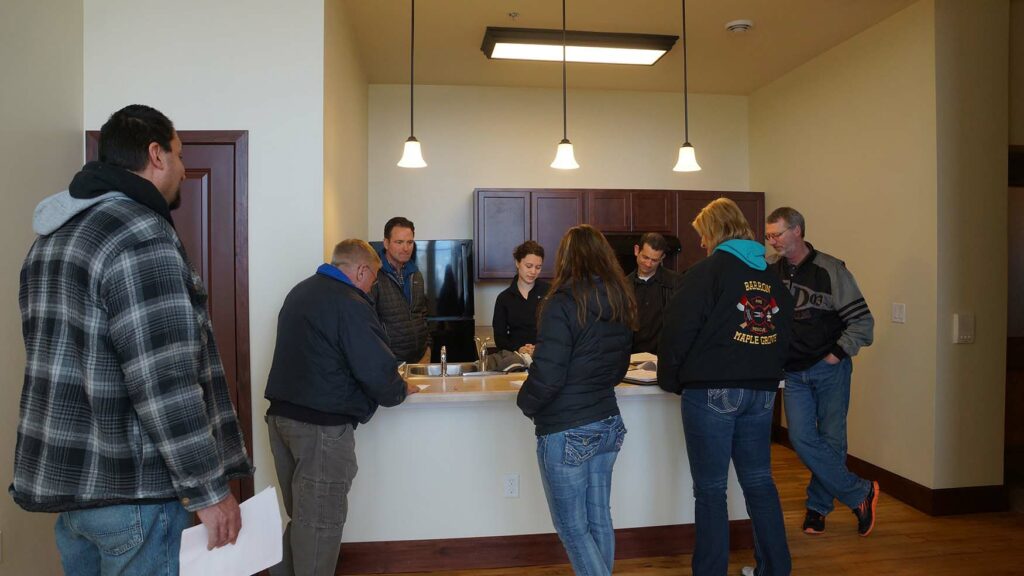 Impact Seven looks towards spring 2016 lease-up.
FEB 22, 2016 – RICE LAKE, WI – A February 17 site visit confirms that the extensive renovations and new construction at the future site of the Franklin School Apartments is nearing completion.
In late July of 2015, the project officially broke ground, with Impact Seven at the helm of development, with the assistance of Sikes-Abernathie Architecture. The general contractor, Dave Cecil Builders, Inc. had just begun setting the footings for the new townhomes at this time.
"Developments this complex are sometimes difficult to keep on schedule, with so many moving parts," says Kristine Giornalista, Impact Seven's Vice President of Real Estate Development. "We are very pleased with how the project is coming together."
The 12 apartments, located within the historic Franklin School, feature high ceilings, large windows and loft-style finishes. The newly constructed townhomes provide eight 3-bedroom, 2.5-bathroom homes with spacious, family-friendly layouts and finishes.
All units are designated affordable – offering much needed, quality housing options for individuals and families who are earning less than 60 percent of the county median income.
The apartments and townhomes will be available for lease no later than May 1. The February 17 walk-through included a tour of many completed apartment and townhome units, but because the property is still an active construction site, those completed units will remain vacant until the bulk of the project is finished. Some additional work will continue into the summer, including landscaping, new playground installation, and paving efforts.
"The Franklin School Apartments offered Impact Seven a unique opportunity to support the Rice Lake community," said Brett Gerber, Impact Seven CEO. "Preserving this landmark in this way is a perfect representation of Impact Seven's mission to positively influence communities across Wisconsin."
Impact Seven is a nonprofit Community Development Financial Institution (CDFI) that was established in 1970 in rural northwestern Wisconsin. It builds capacity in underserved communities throughout the state and beyond, and provides innovative, socially-motivated investments and services. Impact Seven's commercial and residential real estate projects revitalize distressed communities through cross-sector partnerships and local involvement.
Townhomes
---
Apartments
---
← Go Back To The Blog Roll