Groundbreaking Scheduled for Artist Lofts: Loft Style Housing Project in Manitowoc, WI.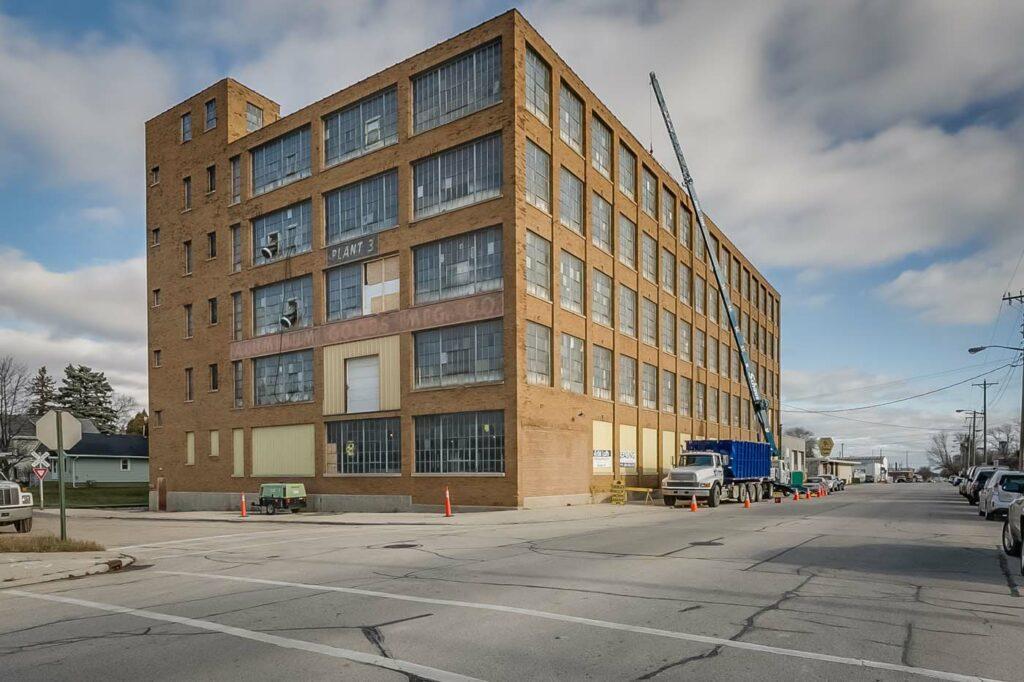 Adaptive reuse and renovation of the historic Mirro Plant #3 underway
DEC. 9, 2015 – Manitowoc, Wis. – The Office of the Governor, the City of Manitowoc, Impact Seven, Inc. and Wisconsin Redevelopment, LLC will be hosting an official groundbreaking for Artist Lofts on December 17. This highly anticipated project involves the adaptive reuse of the historic Mirro Plant #3 into 40 units of affordable housing and market-rate loft style apartments. Speakers will include Manitowoc Mayor Justin Nickels; Jim Draeger, State Historic Preservation Officer; 4th district alderman and neighbor Jim Brey; National Equity Fund representative Rachel Rhodes; as well as representatives from the Office of the Governor, development team and more. The event is open to the public.
Mirro Plant #3 in Manitowoc was constructed in 1929 by the nation's largest aluminum goods manufacturer, Manitowoc-based Aluminum Goods Manufacturing Company, also known as Mirro. By 2003, all Mirro company production operations were transferred out of Manitowoc and overseas, which left all of Mirro's original Manitowoc facilities either demolished or vacant. This $9 million project will renovate one of the last historic icons of early Manitowoc industry and will provide exceptional loft style apartment units, indoor parking, artist spaces and onsite management at rents between x and y.  Currently there are no comparable properties in the City of Manitowoc that offer loft style living and that maintain many of the building's historic features such as hardwood floor and exposed structural beams and columns.
This project is ideally located for workforce housing being near downtown Manitowoc and adjoining a city bus line for easy access to all parts of Manitowoc.  The project is designated for low-income individuals with a 30-year affordability period, so special care will be taken to ensure that the latest in energy-efficient equipment, materials and methods are used in the project, as well as durable and low-maintenance building materials. Construction will follow Wisconsin Green-Built Standards, a nationally-recognized initiative that reviews and certifies new homes, multifamily units and remodeling projects that meet sustainable building and energy standards.
Amenities and building attributes will include a community room, outdoor space, Energy Star lighting and appliances (stove, refrigerator, dishwasher, and garbage disposal), on-site laundry, central air-conditioning, window treatments, cable TV, two full baths, internet hookups, and indoor first floor parking.
In addition, 25% of the project's apartment units are targeted to United States veterans in need of supportive services.  Manitowoc County Veterans Services Office, working in conjunction with Lakeshore CAP, will provide veteran support services in space allocated in the development. Included with the first floor interior parking will be a community room, artist spaces, and the management office with all the housing units located on floors 2-5 in the former Mirro Plant #3. In addition to veterans, the Artist Lofts will target the artist community, allowing individuals to create, display, and sell their work in the same building in which they live.
The project is being developed by Impact Seven, Inc. and Wisconsin Redevelopment, LLC, with the support of the Veterans Service Office of Manitowoc, Lakeshore CAP, Inc., MacRostie Historical Advisors, the Chamber of Manitowoc County and Progress Lakeshore. Loans for the project are being provided by Bank Mutual, Impact Seven, the City of Manitowoc and the US Environmental Protection Agency.  Grants, Equity and Tax Credits are coming from Wisconsin Department of Administration Division of Housing, Commerce Bank, National Equity Fund, Wisconsin Economic Development Corporation, Wisconsin Historical Society and the Wisconsin Housing and Economic Development Authority.
Construction commenced in November 2015 and will be ready for occupancy in early summer 2016. Those interested in becoming tenants should contact Impact Seven at 844-548-3147 for pre-qualification.
The groundbreaking ceremony is open to the public and will take place at the future site of the Artist Lofts, 2402 W. Franklin in Manitowoc, Wis. Networking begins at 9:30AM with remarks at 10:00AM. Those interested in attending are encouraged to RSVP with Bob Lemke of Wisconsin Redevelopment, LLC. at lemke@msoe.edu or 414-777-0428.
Impact Seven is a nonprofit Community Development Financial Institution (CDFI) that was established in 1970 in rural northwestern Wisconsin. It builds capacity in underserved communities throughout the state and beyond, and provides innovative, socially-motivated investments and services. Impact Seven's commercial and residential real estate projects revitalize distressed communities through cross-sector partnerships and local involvement.
Wisconsin Redevelopment, LLC, is a Wisconsin based real estate development and consulting company, focusing on historic renovations and workforce housing.  Many of Wisconsin Redevelopment's projects are award-winning including Historic Manitowoc Place, a 2004 $5.2 million historic rehabilitation of a vacant and neglected 8-story building also located in Downtown Manitowoc. Historic Manitowoc Place, has had a major impact in the rebirth of Manitowoc's Downtown.
← Go Back To The Blog Roll