PRESS RELEASE : Artist Lofts Grand Opening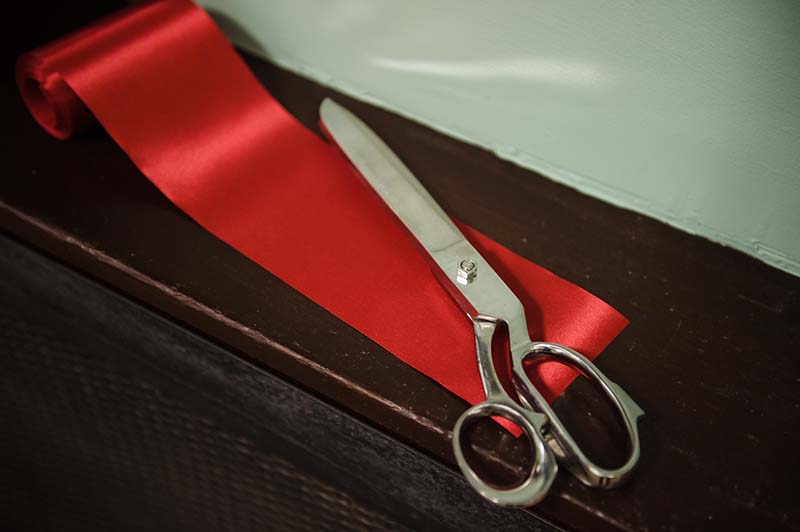 Open House Scheduled for much anticipated Artist Lofts apartments in Manitowoc, Wis.
Grand opening celebration to include site tours, remarks and mural unveilings
July 14, 2016 – Manitowoc, Wis. – The Office of the Governor, the City of Manitowoc, Impact Seven, Inc. and Wisconsin Redevelopment, LLC will be hosting the grand opening for the Artist Lofts on July 22 to mark the completion of the historic renovation of the former Mirro Plant #3. The event will include a ceremonial ribbon cutting, the unveiling of two winning murals and a formal ceremony. Speakers will include Governor Scott Walker, Manitowoc Mayor Justin Nickels, representatives from the development team and more.
The event is open to the public and will take place on site at 2402 W. Franklin in Manitowoc, Wis. Networking begins at 1:00 PM, followed by formal remarks and a ribbon cutting ceremony at 1:45 PM. Site tours begin at 2:30. Beyond opening the doors for the Manitowoc community to see the transformation, one of the most exciting elements of the day will be the unveiling of two murals by Kris Austin and a collaborative effort between Erin LaBonte and Justin Franklin Baldwin – the winners of a statewide competition. Both murals have thoughtful and significant ties to the Manitowoc community, and the artists will be available to share their process and vision with the crowd during the event.
In May, Artist lofts received the Neighborhood Development Award from Progress Lakeshore, which recognizes innovate real estate development projects that create jobs and increase the tax base.  In addition, this $9 million historic rehabilitation has been nominated for the National Register of Historic Places by the Wisconsin Historical Society and is now the highest rated energy efficient multi-family green development in the history of the Wisconsin Green Built Home program. The project has designated affordable units, so special care has been taken to ensure that the latest in energy-efficient equipment, materials and methods were used, as well as durable and low-maintenance building materials. In addition, 25% of the project's apartment units are targeted to United States veterans in need of supportive services.  Manitowoc County Veterans Services Office, working in conjunction with Lakeshore CAP, will provide veteran support services in space allocated in the development.
Loft-style unit amenities include refurbished wood floors and ceilings, central heating and air conditioning with exposed ductwork, two full baths in each unit, custom cabinetry, Energy-Star appliances, new energy-efficient windows and in-unit storage. Building amenities include on-site management, indoor parking, on-site laundry, community room, exercise and fitness studio, and gallery spaces. In addition to veterans, the Artist Lofts will target the artist community, allowing individuals to create, display, and sell their work in the same building in which they live. In September, The Artist Lofts Gallery will be leased by Vagabond Creative Studio and will be the new home of Vagabond Visual Concepts, Jason Prigge Art School and the Vagabond Community Gallery. Six annual art shows are planned in the Vagabond Creative Studio, along with community based art learning programs covering everything from digital to classical art disciplines. The space will also host periodic performances and events, and will be open to the public. The creative space will be managed by award-winning visual artist Jason Prigge and his co-creative and wife, Tina.
The project was developed by Impact Seven, Inc. and Wisconsin Redevelopment, LLC, with the support of the Veterans Service Office of Manitowoc, Lakeshore CAP, Inc., MacRostie Historical Advisors, the Chamber of Manitowoc County and Progress Lakeshore. Loans for the project are provided by Bank Mutual, Impact Seven, the City of Manitowoc and the US Environmental Protection Agency.  Grants, Equity and Tax Credits are coming from the Federal Home Loan Bank of Chicago, Wisconsin Department of Administration Division of Energy, Housing and Community Resources, Commerce Bank, National Equity Fund, Wisconsin Economic Development Corporation, Wisconsin Historical Society and the Wisconsin Housing and Economic Development Authority. The project was designed by Quorum Architects and built by Catalyst Construction.
—–
Impact Seven is a nonprofit Community Development Financial Institution (CDFI) that was established in 1970 in rural northwestern Wisconsin. It builds capacity in underserved communities throughout the state and beyond, and provides innovative, socially-motivated investments and services. Impact Seven's commercial and residential real estate projects revitalize distressed communities through cross-sector partnerships and local involvement.
Wisconsin Redevelopment, LLC, is a Wisconsin based real estate development and consulting company, focusing on historic renovations and workforce housing.  Many of Wisconsin Redevelopment's projects are award-winning including Historic Manitowoc Place, a 2004 $5.2 million historic rehabilitation of a vacant and neglected 8-story building also located in Downtown Manitowoc. Historic Manitowoc Place, has had a major impact in the rebirth of Manitowoc's Downtown.
Those interested in becoming tenants should contact Impact Seven at 844-548-3147.
← Go Back To The Blog Roll